1-axis rotation type which is the standard and easy to use.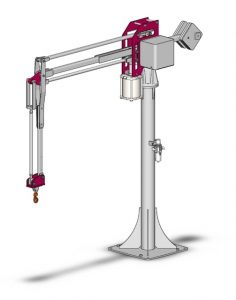 We offer both the floor-mounted UBMF series and ceiling-mounted UBMC series.
The models ranging from 75kg to 500kg are most widely standardized.
As for the structure of the arm , you can select single link type mostly used hook attachment or double link type to keep an attachment horizontally.
They can be installed in a wide range of locations, and have a single rotation axis, making them optimal for working over large areas in work environments with high ceilings.
Air pressure :0.54MPaG
Power source:SINGLE-PHASE AC85~264V 50/60Hz
Electric consumption: 0.1KVA (common for all types)
For detailed dimensions, please download the full outline drawing (PDF).
Common with Pneumatic Balaman
specifications