Higher!  Wider area!
2-axis rotation type which is compatible with various installation spaces.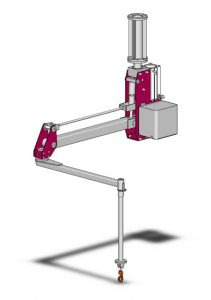 The horizontal and vertical arm lengths can be independently adjusted, enabling this versatile model to flexibly accommodate various ceiling heights and work spaces.
It has fewer openings than other models, leading to its extensive track record of use in clean rooms.
Air pressure :0.54MPaG
Power source:SINGLE-PHASE AC85~264V 50/60Hz
Electric consumption: 0.1KVA (common for all types)
For detailed dimensions, please download the full outline drawing (PDF).
Common with Pneumatic Balaman
specifications