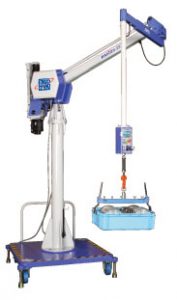 INTELLIGENT BALAMAN  "i2" series
Overturning the conventional image of Electric Balancer.These Balamans are completely electric, using electricity for advanced balancing functions and all loading functions. They have been developed using electrical control technologies and mechanical design technologies, providing functions and operability above and beyond those of conventional Electric balancers.
Features and Specifications
Versatile arm types that fit the working space and operations.
BMi2F : 1-axis rotation type which is the standard and easy to use.
BMi2S : 2-axis rotation type which is compatible with various installation spaces.